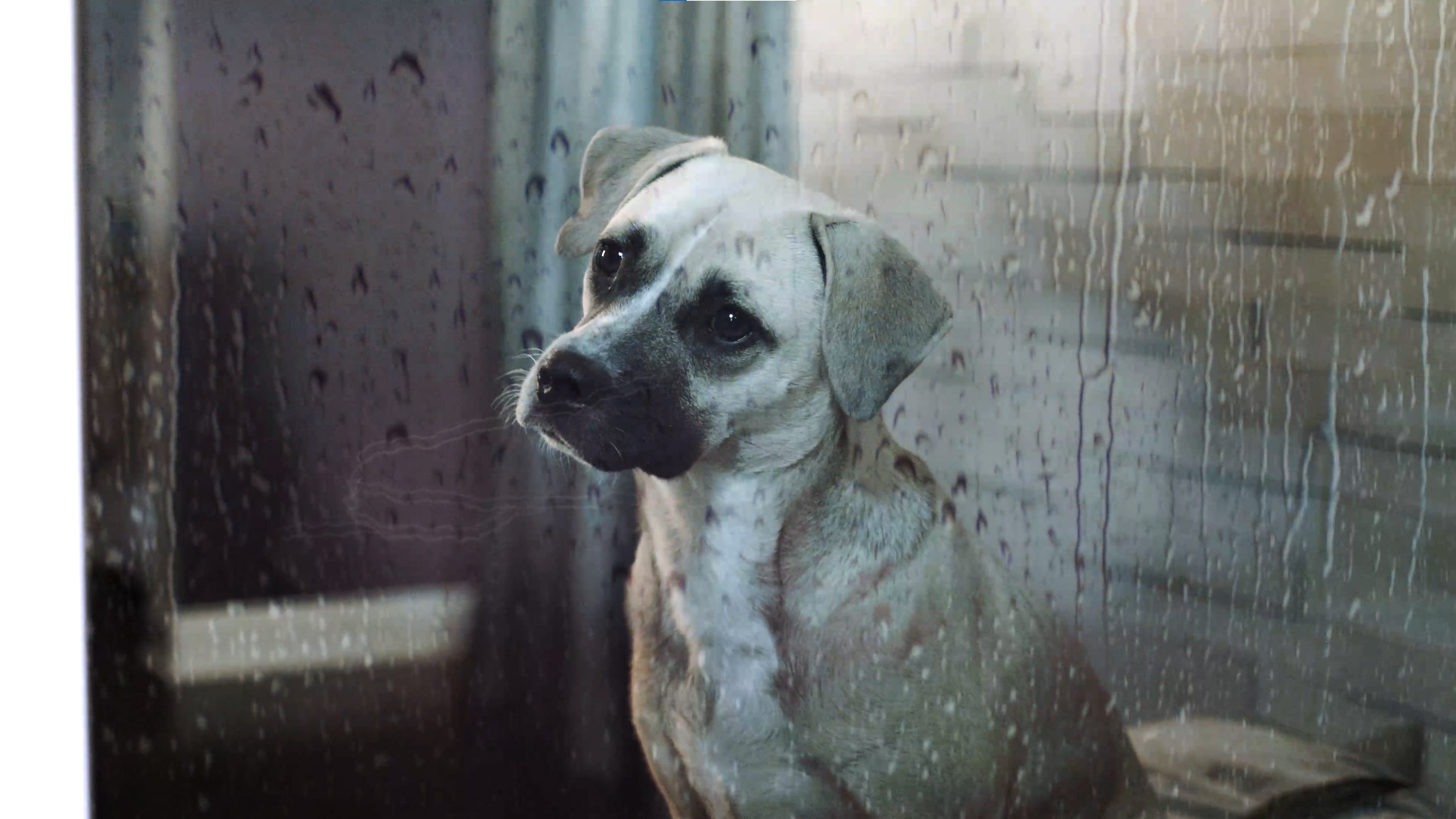 Help Your Dog Stay Safe and Calm During a Storm
🎵It's like thunder, lightning, your dog is hiding, he's frightened, you better knock on wood.🎵 You won't have to knock on wood for long (sorry Amii Stewart), as we have some tips to help your dog stay calm during thunderstorms! Before we go into tips to reduce your dog's storm anxiety, allow us to explain what storm anxiety typically looks like in dogs. 
Signs of Noise Anxiety in Dogs
Your dog may suffer from noise anxiety if they exhibit any of the following during a thunderstorm or fireworks:
Shaking, Panting, Drooling

Hiding or Clinging

Barking

Yawning

Chewing and Licking

Escaping

Running or Pacing

Destructive Behavior

Indoor Urination or Defecation

Seizures
Noise anxiety looks different in each dog, but over 45 million dogs in the US suffer from fear or anxiety caused by loud noises. Other things that may trigger noise anxiety in your dog include: garbage trucks, vacuums, or other loud household appliances. 
How Can I Help My Dog Stay Calm During a Storm?
There are many different solutions available to help you and your dog relax during a storm so don't be afraid to ask your veterinarian or local behaviorist for help. While we know this may not be possible for all dog owners, check out some of our easy tips to try first to help your dog feel more comfortable during a thunderstorm. 
Things to try to ease your dog's storm anxiety:
Stay calm yourself – try sitting still and relaxing in one area and let your dog be close by

Leave your dog's crate or kennel open, covered with blanket to create a dark "safe space"

Turn on the TV or a sound machine in the room they are in to help mask the sudden noises

Play a game with your dog to distract them

Extra cuddles if your pet comes to you

For extra help, bring in the support of a calming solution
Things to
NOT
try to ease your dog's storm anxiety:
Do

NOT

lock your dog in a different room or crate. Allow them to be where they feel most comfortable.

Do

NOT

yell at, or otherwise punish, your dog for being afraid. This will only make their fear worse.
Calming Solutions to Help With Storm Anxiety in Dogs
You can't always take away the cause of your pet's anxiety, but you can still help them when storms roll in. Here at ThunderWorks we offer multiple solutions that are perfect for helping your dog stay calm during a thunderstorm! All of our products come with a risk-free 60-day return policy so that if needed you can find the solution that works best for your dog! Check out our recommendations for dog calming products for storm anxiety below! 
The Original, Vet Recommended Calming Solution, ThunderShirt®:




Perfect for storms, ThunderShirt® works like a hug and applies gentle, constant pressure to help calm all types of anxiety, fear, and over-excitement issues in dogs.

ThunderWunders® is calm in a tasty, bite-sized bit:




ThunderWunders® Dog Calming Chews contain ingredients that help promote rest and relaxation for your dog, so you can spend less time struggling and more time snuggling. Packed full of thiamine, L-Tryptophan, melatonin, and other calming ingredients, our chews help your dog relax in situations that may cause them anxiety. 




If possible, give your dog the recommended amount of ThunderWunders® ~30 minutes before the stressful event (a thunderstorm is coming, fireworks will start, you are going to get in the car and go to the vet, etc) in order to give the ThunderWunders® time to kick in!

Like mom, ThunderEase® for Dogs can provide a sense of calm during a storm:




By mimicking the calming pheromone that a mother dog releases while nursing her puppies, ThunderEase® may help your dog to feel calmer, more secure, and more comfortable! ThunderEase® comes in a variety of application styles so pick the one that best works for your dog's lifestyle. 
Together We Can Weather the Storms
Here at ThunderWorks, our priority is helping you reduce your dog's anxiety. If you have any questions or additional tips you would like to share that work for your dog that may help other pet parents contact us! If your dog is loving their calming products be sure to tag us on Instagram for a chance to have your pup featured!