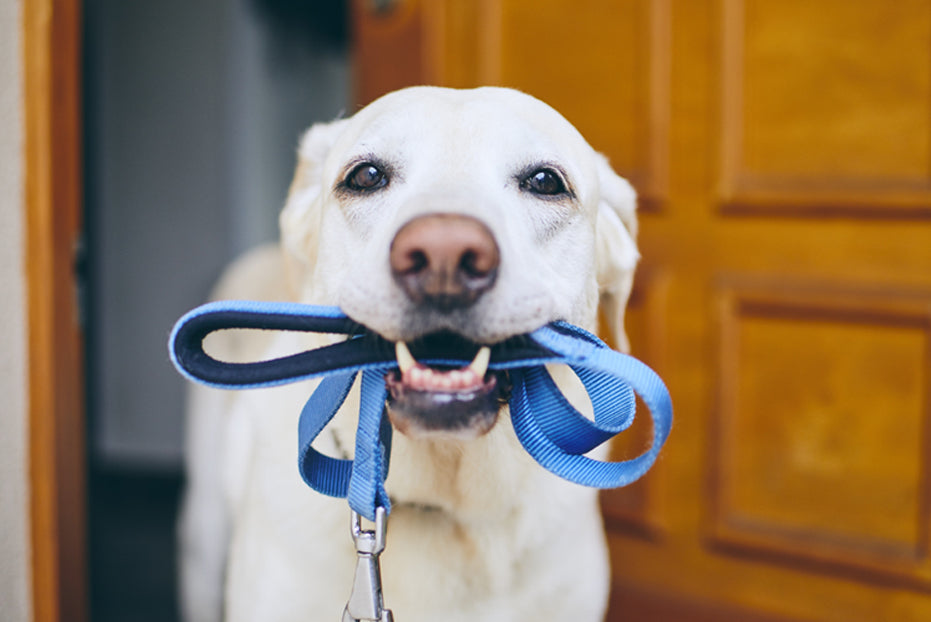 It's National Walk Your Dog Week!
Have you remembered to stop and smell the roses-or grass lately? Chances are your dog has and if they love taking walks then now is the perfect time for that midday stroll. Why? Because next week is National Walk Your Dog Week! That's right, starting October 1st, you and your dog can join the rest of the nation and celebrate the benefits of walking together! Founded in 2010, National Walk Your Dog Week is a reminder of just how important exercise is to your dog's health. So without further ado, let's take a deep dive to learn more about why walks are so important and how ThunderWorks walking solutions can make for better walks with man-or woman's best friend. 
The History of National Walk Your Dog Week
Created by Pet Lifestyle Expert Colleen Paige, National Walk Your Dog Week was initiated to increase awareness around the dangers of pet obesity and to encourage people to adopt shelter dogs and start walking with them. This weeklong celebration is dedicated to raising awareness about the role exercise plays in the health of your dog. 
Did you know that more than 40% of dogs are overweight? Don't fret though, a daily thirty minute walk will help your dog (and you) meet recommendations for heart-healthy exercise. 
More Walks Can Help With Behavior Issues
Behavior issues are one of the top reasons owners surrender dogs to shelters. Did you know that some behavior issues are the result of insufficient exercise and lack of stimulation? Dogs who are left home alone or left in crates all day may act out in destructive ways or develop separation anxiety if they are not getting enough exercise while you are home. 
Let's Have Better Walks Together!
Are you avoiding longer walks with your dog due to challenges when it comes to walking your pooch? If so, we have some solutions for you and in honor of National Walk Your Dog Week, we wanted to highlight three of our most popular walking solution.
Eliminate Pulling with the ThunderLeash
ThunderLeash applies gentle, safe pressure around your dog's chest, which encourages them to stop pulling.  It clips onto your dog's collar like a standard leash. The ThunderLeash is the simpler "no-pull" solution for your dog, highly recommended by positive-based trainers across the country!  Customers have been very impressed at how well the leash works, and how much more control they have over their dog. They are back to enjoying their walks, and you can be too! 
Oh Snap - Introducing the ThunderSnap
If your dog gets so excited for a walk that it is hard to get their leash on, get a quick and easy start with ThunderSnap! ThunderSnap uses powerful magnets and a steel ball-bearing latch mechanism to quickly and securely connect to any standard D-ring dog collar. The ThunderSnap is perfect for dogs that want to run immediately to their water bowl when they come back inside and it can even withstand up to 500lbs of force! 
Dial it Back - Dial-a-Distance
The safety you need and the freedom you want now comes in leash form. Our Dial-a-Distance retractable leash is the safer retractable leash that automatically stops at the maximum length that YOU set. Retractable leashes are great for giving your dog more exercise and freedom on walks but if you are distracted for even a moment, your dog may lunge into danger before you can get your thumb on the manual brake. Dial-A-Distance eliminates those risks, allowing you to stop worrying and enjoy the walk with your dog by setting a maximum lead they are allowed to take, from 0 to 15 feet. 
Let's Celebrate Together
We want to celebrate National Walk Your Dog Week with you! Tag us in your photos you take while on your walk with your dog this week! Bonus points if you have already incorporated one of our walking solutions into your routine!