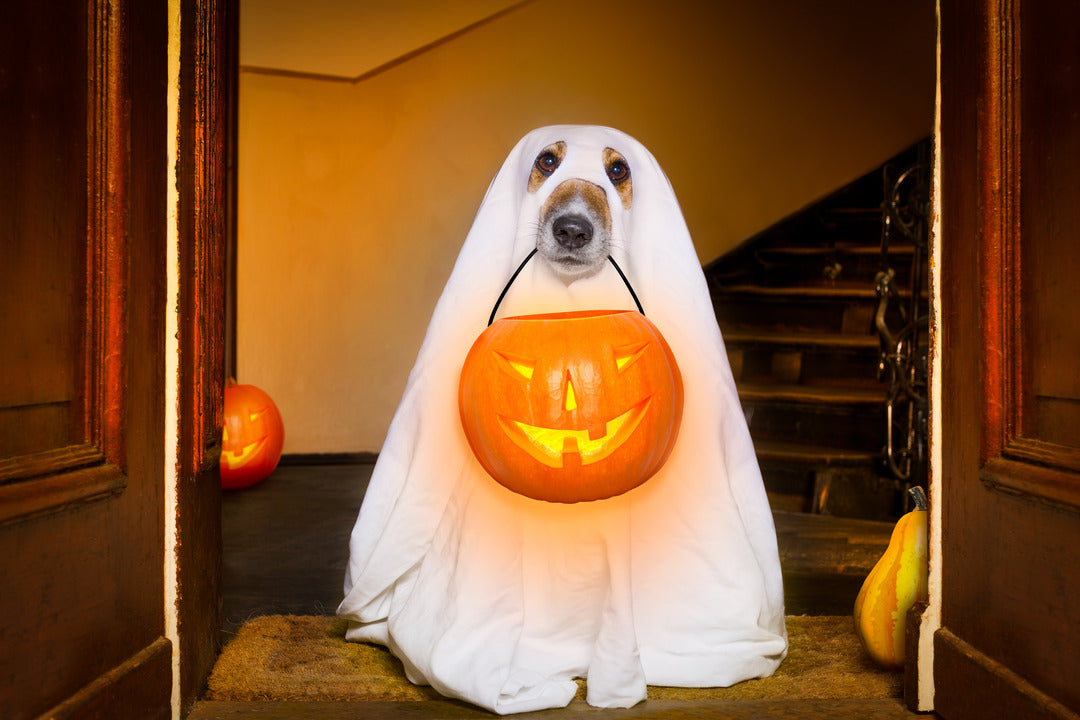 Halloween Tips for You and Your Dog
"Spooky, scary skeletons, send shivers down your spine." While you may get scared from the skeletons, horror movies, or haunted houses that All Hallows' Eve brings with it, Halloween is a different kind of monster to your dog. From toxic candies to strangers in costumes, making Halloween an enjoyable experience for your dog is key to having a great night and keeping them safe all night long! Keep reading for some of our tricks and treats for helping your dog have the best Halloween possible. 
Be Mindful of Candy No-Nos
While "Toxic" by Britney Spears may be on your Halloween playlist, it doesn't need to be on the agenda for your dog. While there is no shortage of tasty treats for humans, the dog friendly treats are few and far between. In fact, many of our favorite Halloween treats are actually toxic to our dogs and can result in spending the night at the emergency vet if you aren't careful.
Some of these toxic treats include: 
Chocolate

Raisins

Some sugar free candies (these can contain Xylitol) - this includes many hard candies as well. 

Macadamia nuts
When it comes to Halloween candy, we recommend keeping the candy (and wrappers) elevated in a place where there is no way that your dog can get into them. If you have to second guess if your dog can reach the place you are considering, it is best to go ahead and place the candy elsewhere. We all know how dedicated our favorite little tricksters can be when it comes to getting what they want. 
Be Aware of the Biggest Fear: The Doorbell 
Your dog's biggest fear during the Halloween festivities? It may surprise you, but it is actually your door bell! Dogs who suffer with noise anxiety are particularly startled by the doorbell because on Halloween is rings all night long! To help your dog navigate their fear of the doorbell, there are a couple of things you can do. 
1. Create a Soundproof Oasis
The first thing you can do to help your dog not get as spooked when the doorbell rings is to create a soundproof and safe oasis where they can spend the night. You can equip this oasis with their favorite toys, sound machines, radios, or anything that will drown out the noise and keep your dog's mind occupied. 
2. Strategically Place Candy on the Porch
If you want to eliminate the problem altogether, simply place the candy you intend on handing out on the porch or greet trick-or-treaters at the door prior to the doorbell needing to be rang. Your dog will thank you! 

Dressing Up? Choose Comfort
Who doesn't love getting dressed up for Halloween? Well some dogs for starters. If you already know that dressing up your dog for the occasion will cause stress and discomfort we recommend forgoing the costumes and finding another way to have fun with your pup on Halloween! 
But for the dogs and their owners who do enjoy dressing up, here are a few tips to assist in picking the best costume for your pup:
Be sure the costume doesn't restrict movement or hinder your dog's ability to breathe. 

If your pet displays any signs of stress or discomfort, take it off.

Be sure to get the right size, a costume that is too tight or too big can result in injury if you are not careful. 
Not All Dogs are Pawty Animals! 
One thing to remember this Halloween is that not all dogs love a good party! Halloween is a night where there will be strangers everywhere and if you are in a highly trafficked area for trick or treating, your doorbell may become your dog's worst nightmare by the time the night ends. 
You don't want your dog getting spooked and making a run for it. Keep your dog away from the door when having trick or treaters and if you are having a gathering, especially if costumes are involved, keep them in another room to ensure they do get stressed by strange visitors in the home. Even if a dog knows all of your visitors, costumes can result in them not recognizing your friends and family and cause them to want to run and hide. 
Make Sure All ID Tags are Secure and Up to Date
Accidents happen and if your dog does get spooked and makes a run for it, it is important to ensure that you are able to be reunited with your dog! Make sure all ID tags are secure and up to date prior to the night's festivities being underway! Additionally, if you have any tracking devices on their collar, be sure the devices are charged and ready for use, just in case. 
Additionally, if the clanking of tags causes your pup to be scared, check out our dog tag silencer to eliminate an additional fear! 
Halloween Doesn't Have to be All Haunts! 
Last but certainly not least, it is important to keep your dog calm all night long to avoid them running and creating any additional stress for an already stressful night! 
The first thing you will need to do is to watch for some of the more common signs of stress and anxiety. If you see your dog pacing, panting, becoming more vocal than normal, hiding, etc., then you will need to be ready to interject and remove the stressors that are affecting your dog negatively. 
Additionally there are things you can do to help prevent your dog from becoming stressed:
Use a ThunderShirt®:

ThunderShirt®

is the original, vet recommended, natural calming solution that may reduce anxiety in dogs in a drug-free way. Like swaddling an infant, our dog anxiety vest's patented design applies gentle, constant pressure to calm all types of anxiety, fear, and over-excitement issues in dogs.

Try Pheromones:

ThunderEase® for Dogs Calming Pheromones

mimics the calming pheromone that a mother dog emits while nursing her puppies, which helps your dog to feel calmer and more comfortable in all situations!  

Last but not least, calm in a tasty, bite-sized bit:

ThunderWunders® Calming Chews

are recommended to help reduce the effects of normal environmental stress and to help promote calming and relaxation. Packed full of calming ingredients like thiamine and melatonin, ThunderWunders can help you and your dog spend less time struggling and more time having a great night. We recommend you give your dog ThunderWunders ~30 minutes before a stressful event (like before trick-or-treaters start arriving) to give the chew time to kick in.
The great thing about all three of these solutions is that they can be used prior to any festivities to give your dog a head start on feeling the power of calm! 
The Witching Hour is Upon Us! 
Our last Halloween tip for you and your dog you ask? Have fun! If you follow all of our other tips and tricks you should be on your way to having one of the best Halloweens ever! Don't forget to show us how you Halloween this year by tagging us in all your photos whether you are creating a zen space at home or entering a costume contest with your furry friend, we would love to see it!