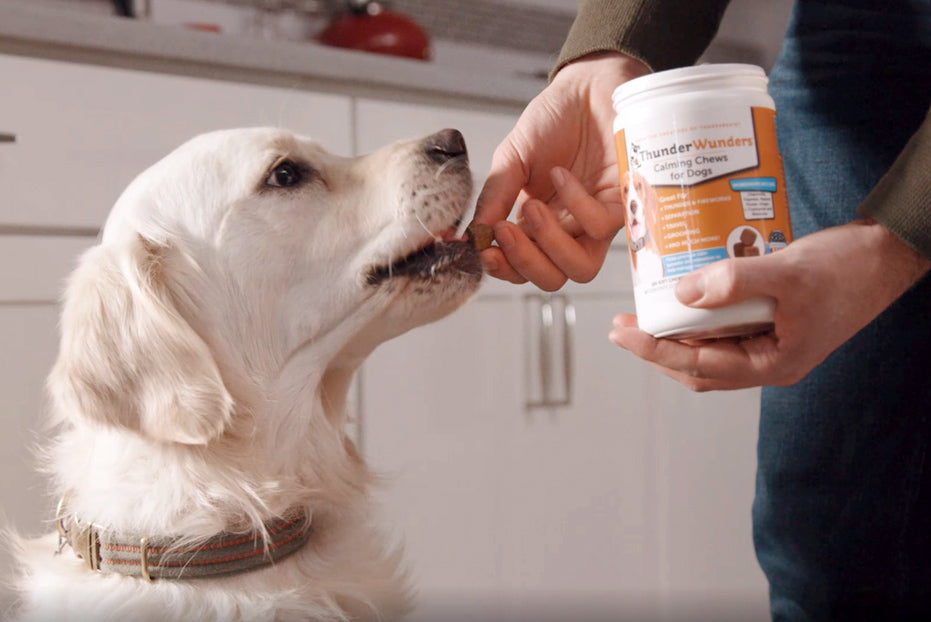 Healthy Ingredients to Help Calm Your Dog
Have you already heard about the calming effects ThunderWunders Calming Chews can have on dogs in stressful situations?  Of course you want to be sure any product that you give to your dog is safe and healthy, so here is a little more information about the ingredients in ThunderWunders and how they may impact your dog. 
Each of our ingredients was carefully chosen to help provide calming relief and alleviate the symptoms of stress dogs can experience during situations like thunder, fireworks, separation, travel, and grooming.
Ingredients
Most mammals, including dogs, create melatonin naturally in their bodies. As melatonin is released, the body gets the signal that it's time to wind down and head to sleep. Our chews contain melatonin to help boost what your dog is already naturally producing.
Ginger is found in all sorts of places, from Asian cuisine to old fashioned candies. While ginger has many health benefits, one of the best-known uses is to settle a nauseous stomach. The ginger in ThunderWunders calming chews may help settle your pup's nervous stomach too, which can be especially helpful in the car!
Even if you're not an herbal tea fan, you've probably heard of chamomile tea. Chamomile is a plant in the daisy family and has been brewed into tea for thousands of years as a traditional medicine for calming anxiety. 
Thiamine is also known as Vitamin B1 and can be found in whole grains, beans, and some meats and fish. Vitamin B1 is an essential vitamin that helps the body turn food into energy. Thiamine is sometimes called an "anti-stress" vitamin because it may strengthen the immune system in times of stress.
L-tryptophan is an essential amino acid found in many plant and animal proteins. Turkeys - and other poultry - naturally contain L-tryptophan, which, when combined with carbohydrates, can boost serotonin, an important component in your sleep cycle. (That's one reason there's a widely spread myth that L-tryptophan is to blame for post-Thanksgiving grogginess!) Because L-tryptophan plays a role in the production of serotonin in the brain, some experts suspect that it may help with conditions such as anxiety.
Hemp is another ingredient that has been used for thousands of years for a tremendous variety of purposes. Hemp Seed Oil is an excellent source of Omega fatty acids, and may aid in digestion, heart health, and overall skin quality. Some research may indicate that hemp seed oil has additional health benefits such as easing joint pain. If hemp isn't your thing, we have a version of ThunderWunders without the hemp seed oil, too! 
ThunderWunders are made in the USA with globally sourced ingredients, and NASC compliant, so they are safe for dogs. Make sure to read and follow all directions on the package before giving calming chews to your dog. Looking for more information on how to help ease your dog's anxiety? Check out our blog post on pet anxiety. 
As always, we're here to help! If you have any questions, we'd love for you to contact us and talk to one of our product experts.  You can reach us at service@thundershirt.com or give us a call during business hours at (866) 892-2078.