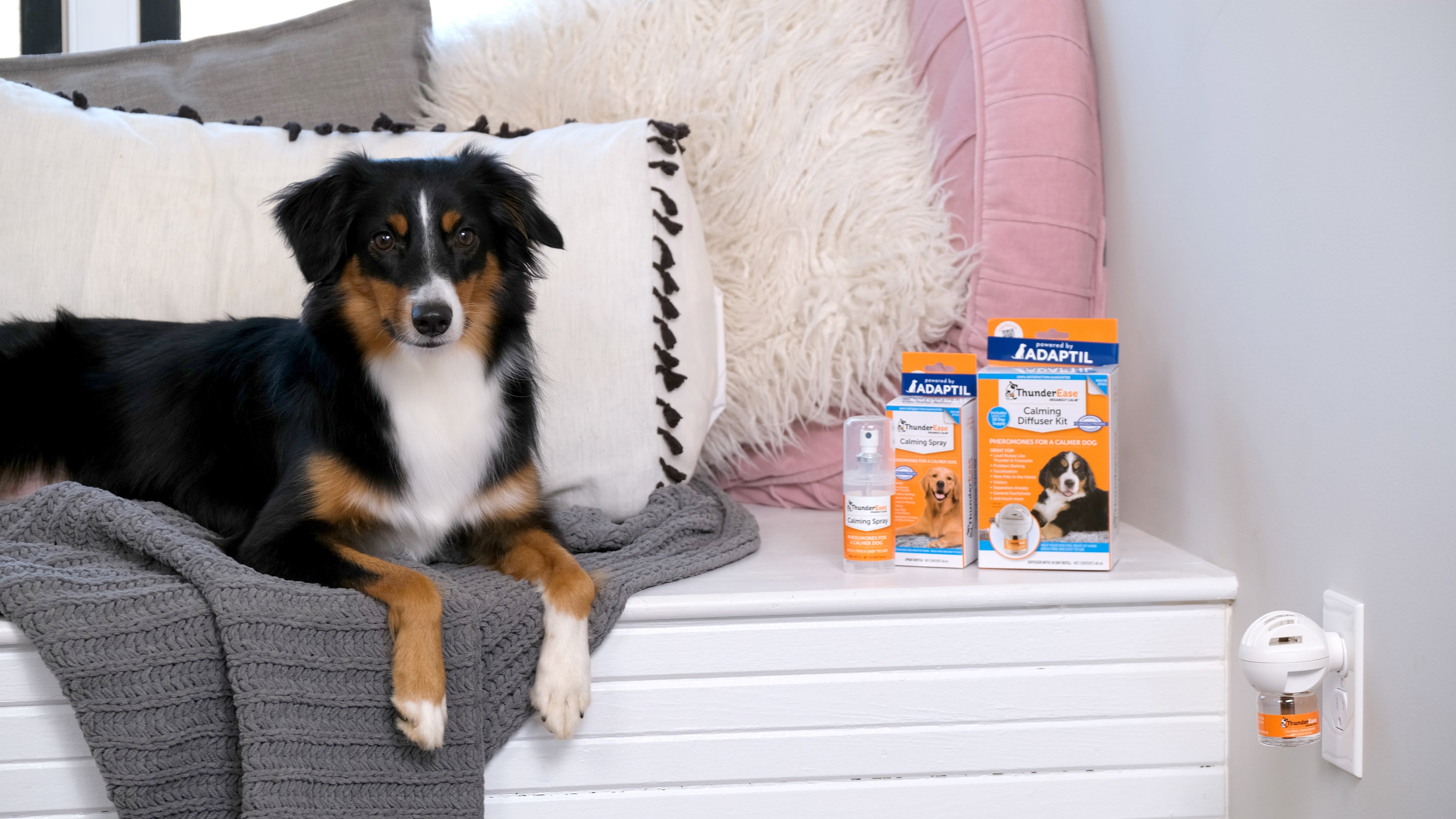 ThunderEase: How and When to Use
Welcome to the ThunderEase® for Dogs family! We are honored you chose ThunderEase® as the calming solution for your fur baby! As a thank you for trying ThunderEase®, we wanted to provide you with some special insights into when and how to use the product, just for you! 
Keep reading to learn more about when to use ThunderEase® calming pheromones for anxious dogs, how to properly use each format of the solution, and some pro tips along the way! As always, if you find you have any additional questions after reading through, send us an email at service@thundershirt.com and we will be happy to help and hear from our newest ThunderEase® family member! 
When to Use ThunderEase®
 ThunderEase® for Dogs is the perfect calming solution in many different stress inducing situations our dogs find themselves in. 
 ThunderEase® may be effective for situations such as:
Fear of noises like thunder and fireworks (or that pesky garbage truck)

Uneasiness in a new home or environment

Stress when socializing or even during training

House-soiling (or "uh-ohs" as we like to call them)

Destructive chewing

Travel anxiety when signs such as shaking, vomiting, panting agitation and salivation occur

Vet visits

Anxiety when boarding or kenneling

Stress caused by changes in the environment like new furniture and remodeling
ThunderEase® Calming Diffuser
When it comes to calm, ThunderEase® Calming Diffuser is one of the easiest formats to use, as long as you follow us these instructions:
ALWAYS plug the diffuser with the VENTS UP. This will help to ensure the product works properly. When used incorrectly, there could be risk of leaking, or smoking. NEVER plug in the diffuser sideways or upside down.

Our diffusers cover 700 square feet. We recommend plugging them in where your dog spends most of their time. However if you need a whole-home calm, be mindful that you will need to divide your square footage by 700 to determine how many plugs you will need. Also be sure that when placing the diffusers, you allow them to work in different parts of the house.

Leave AT LEAST 4 feet of clearance around the diffuser and avoid plugging in the diffuser under or behind furniture, curtains, or fixtures.

The diffuser will get hot. This is normal for proper evaporation. Use only in properly functioning 120-volt electrical outlets. DO NOT use power strips, extension cords or any type of converter.

Replace the

diffuser head

every six months.

The

refills

typically last around 30 days but be sure to have your next refill ready by the time the current one runs out. It can take some time for ThunderEase® to begin working and the last thing you will want to do is have to start over every month.
Pro Tip #1: ThunderEase® Calming Diffuser is best used in situations where the signs of anxiety occur solely in the home. If your dog struggles with things such as separation anxiety, house-soiling, or uneasiness in a new home after moving, then the diffuser would be the best format for you to try.
ThunderEase® Calming Spray
Next up we have ThunderEase® Calming Spray! ThunderEase® spray is also easy to use and can give your dog the calm feeling they have been looking for. ThunderEase® spray is great for spraying in the car before a long road trip or even spraying your pup's favorite bandana before going to the dog park. It can even be used to spray a new dog bed to help your pup get used to it and see it as a place of comfort! 
Spray 8-10 pumps directly on objects like pet beds, kennels, or your car. Let the spray sit for 15 minutes before introducing your dog.

Spray every 4-5 hours as needed.

 

Please note that the spray does contain Isopropanol q.s. which is not recommended to be used on leather so we recommend laying down a blanket or car hammock before usage.
Pro Tip: ThunderEase® spray can be used with a ThunderShirt®! Some dogs need a little extra help finding their calm and if you already have ThunderShirt® you can actually spray 2-3 bursts on the ThunderPatch for maximum calm.
ThunderEase® Calming Spray is perfect for at home and on the go but we typically recommend it for travel as it is so portable and easy to use!
ThunderEase® Calming Collar
Last but not least, we have the ThunderEase® Calming Collar! ThunderEase® Calming Collar is activated by your dog's body heat so it is able to work while your dog is on walks, running around the yard or even just exploring a new space! Proper fitting and usage is extremely important for your dog to be able to feel the power of calm. We recommend the collar for the dog that has anxiety both at home and on-the go. Since the collar is not to be removed until time for replacement, your dog will be able to have the power of ThunderEase® no matter where they are, as long as the collar is replaced properly.
Usage Instructions (these are also on the package the collar comes in for ease of use):
Place your finger inside the plastic loop and pull the thin plastic away to uncoil the collar. This thin plastic can be discarded.

 

Thread the end of the collar through the buckle and place over your dog's head.

Tighten the collar snugly so it fits against your dog's body, but loose enough to slide one to two fingers underneath.

Squeeze the collar onto the buckle area to lock the collar in place.

Trim off the excess end of the collar.

DO NOT attach a leash to the collar. This collar is not designed to hold a leash, you will need to use your dog's regular collar or harness for walks.

Replace collar every 4 weeks for max calm. 
Feel the Ease of ThunderEase®
We hope these tips help you and your dog get the most of ThunderEase®! Be sure to tag us in any photos you take of your dog with their ThunderEase® and read all instructions included in your packaging before use. If you misplace those or if your pooch decides the instruction sheet looks like a new chew toy, you can find digital versions here.