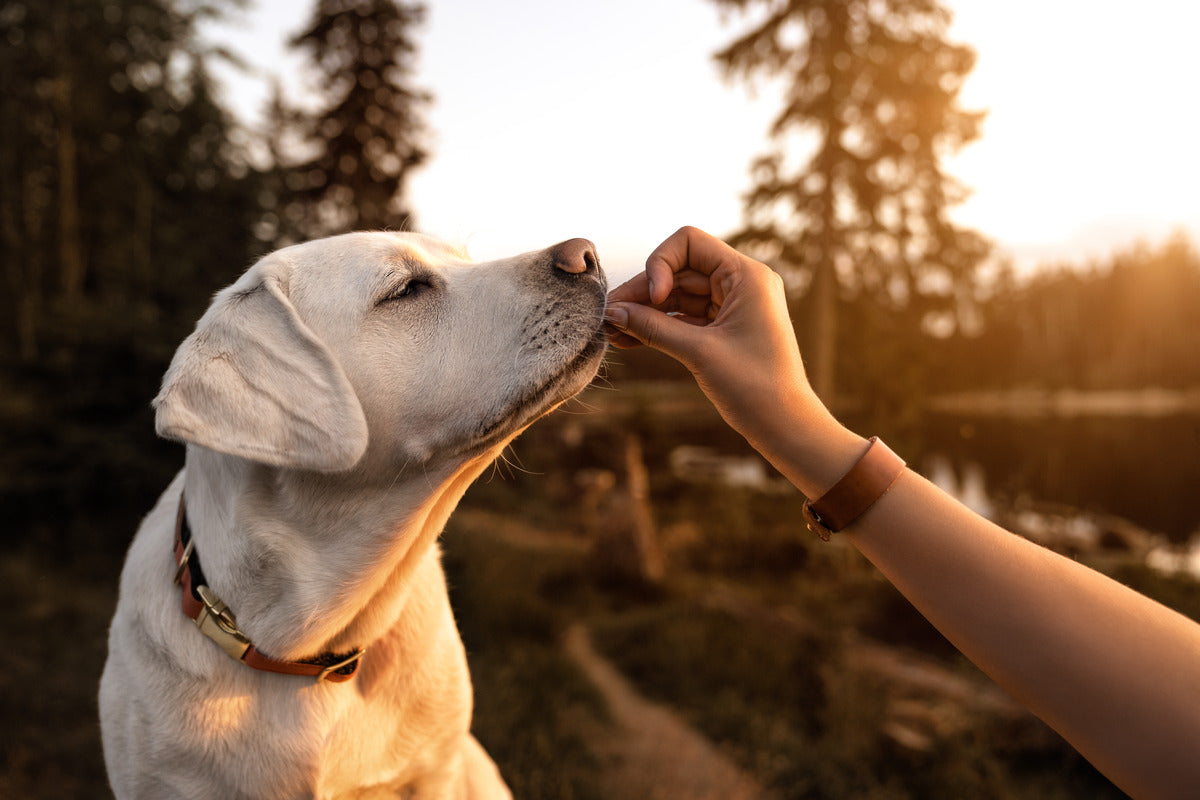 Everything You Need to Know About ThunderWunders® Calming Chews
ThunderWunders® Dog Calming Chews contain ingredients that help promote rest and relaxation for your dog, so you can spend less time struggling and more time snuggling. Packed full of thiamine, L-Tryptophan, melatonin, and other calming ingredients, our chews help your dog relax in situations that may cause them anxiety. Keep reading to learn more about why ThunderWunders® are WUNDERFUL and for our pro tips to make things easier when using them! 
WHEN TO USE THUNDERWUNDERS®
ThunderWunders® can be used for common stressful situations, like:
Fireworks
Thunderstorms
Traveling
Separation
Vet visits
Grooming

! 
ThunderWunders® can also be used in nearly any other situation where you dog might be anxious, or you want to help them feel more relaxed.  The opportunities are limitless, but here are a few examples:
Visitors 
Construction nearby
Loud yard work being done
Workers present in your home
Getting used to a new environment
ThunderWunders® are a pup favorite in our office thanks to their ease of use and great taste (according to Tater, Sulley, Norman, and Aspyn, a few of our office dogs). 
Pro Tip: Give ThunderWunders® to your dog around 30 minutes prior to a stress causing event so that the chews will have time to digest and start working for your dog. 
HOW MANY THUNDERWUNDERS® SHOULD YOU GIVE?
When it comes to how many ThunderWunders® your dog should have within any given 12 hour time frame, we have put together this pawtastic graphic you can screenshot so you always know the right amount for your dog or any visiting dogs! 
WHY DO THUNDERWUNDERS® WORK
As we mentioned earlier, ThunderWunders® are packed full of ingredients that promote calming and relaxation! In fact, these ingredients are often used in calming aids for humans! 
Chamomile: Chamomile has muscle-relaxing and anti-inflammatory properties, helping to relax the muscles and relieve situational anxiety. It is also very helpful for dogs who are prone to an upset stomach during hyper-excitability.
 Ginger: Ginger has been used as a spice and medicine in some cultures for thousands of years! It is a great digestive aid for an upset stomach and nausea, and has been seen to help your dog's immune system. Ginger is also a natural anti-inflammatory, helping to ease any inflammation your dog may have and help them to feel more comfortable.
 Thiamine: Thiamine, also known as Vitamin B1 is an essential vitamin in your dog's diet! It plays an integral role in organ health and helps to promote motor functions in your dog.
 Passionflower: Passionflower is not only beautiful, but has a long medicinal history! Its greatest claim to fame is its calming effect. By increasing levels of GABA in the brain, it helps to make your dog more relaxed. Passionflower is great for pups with both situational or separation anxiety.
It's always the Most Wunderful Time of the Year! 
Now that you know all about ThunderWunders®, try them yourself! We think you'll love them and if by chance you don't, our satisfaction guarantee has you covered! Be sure to show off your dog with their ThunderWunders® on social media and tag us for a chance to be featured!