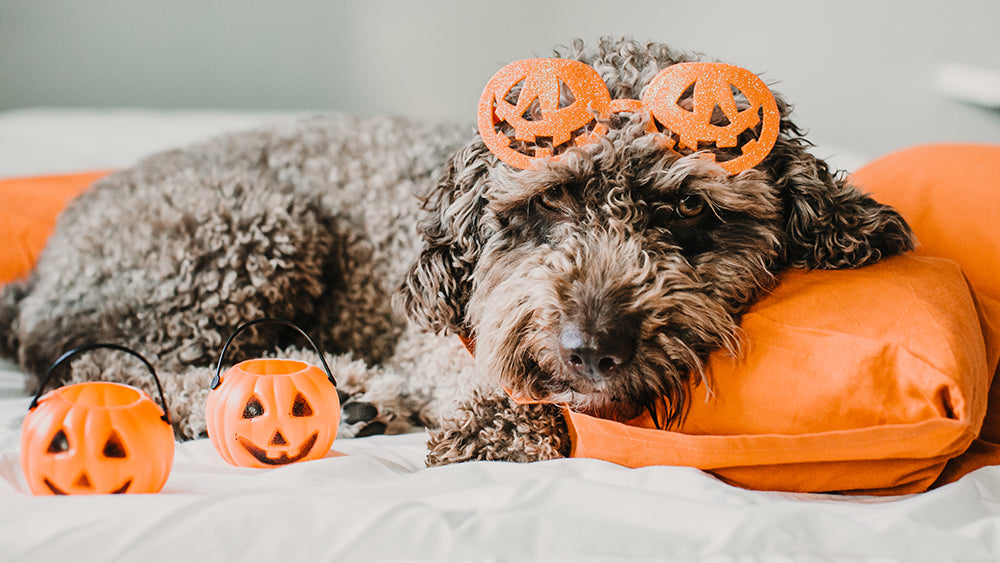 4 Tips to Keep Your Dog Safe and Calm on Halloween
All Hallows Eve, the night of spooky ghosts, scary monsters, and your doorbell ringing constantly and setting off your Nonstop Barking Dog Alarm™. Sound familiar? Well, read on dear sweet autumn child, for some tips on dealing with HALLOWEEN STRESS AND DOORBELL ANXIETY!
1 – NUMBER ONE RULE: DON'T FEED THE GREMLINS.
While scarfing down an entire bowl of chocolate will likely give us humans a sugar rush followed by a bad stomach ache, chocolate and other candy items can be very dangerous to your pet's health. Keep your candy bowl safely out of reach of your pets.
2 – KEEP YOUR PETS SAFELY INSIDE.
If you're passing candy out to masked visitors, your door will be opening frequently, giving your pets a chance to escape to outside world (which, by the way will be populated with strange and terrifying creatures hopped up on sugar).  If you think you have a flight risk on your hands, you might want to consider keeping your dog in a closed off room.  (Speaking of flight risk, a plane could be an adorable costume for your pup!  If you have a grey ThunderShirt, you're already halfway there.)
3 – MAKE A ZEN ZONE.
Create a safe, quiet, stress-free space for your pets with lots of interesting toys for distraction and a calming sound machine to cover the noise of visitors. Your dog will feel like they are having a spa day rather than a night of stress and fear! If you don't already have a sound machine, we have a great option.
4 – TAKE IT OUTSIDE. 
Consider moving your candy-giving duties outside on the porch instead of having trick-or-treaters ring the doorbell. Or set up a few chairs around a portable fire pit in your driveway for extra fun. Don't forget the marshmallows!
 AS THE LEADERS IN THE PET CALMING SPACE, WE HAVE A FEW PRODUCTS THAT CAN HELP!
ThunderShirt Anxiety Jacket – a gentle calming hug to help comfort your dog through a constantly ringing doorbell.
ThunderWunders Calming Chews – give the recommended amount about 30 minutes before the first trick-or-treaters arrive and you'll have a much more relaxed pup.
ThunderCloud Sound Machine and Essential Oil Diffuser – This combination sound machine and calming diffuser can be a great addition to your Stress-Free Zone.
ThunderEase Phermones – Use the calming spray as needed, or plug in the diffuser for continuous calm.
 We hope you have a spooky and stress-free Halloween!  If you have questions about Halloween safety, or products available that could help, feel free to contact us at 866-892-2078 or service@thundershirt.com.