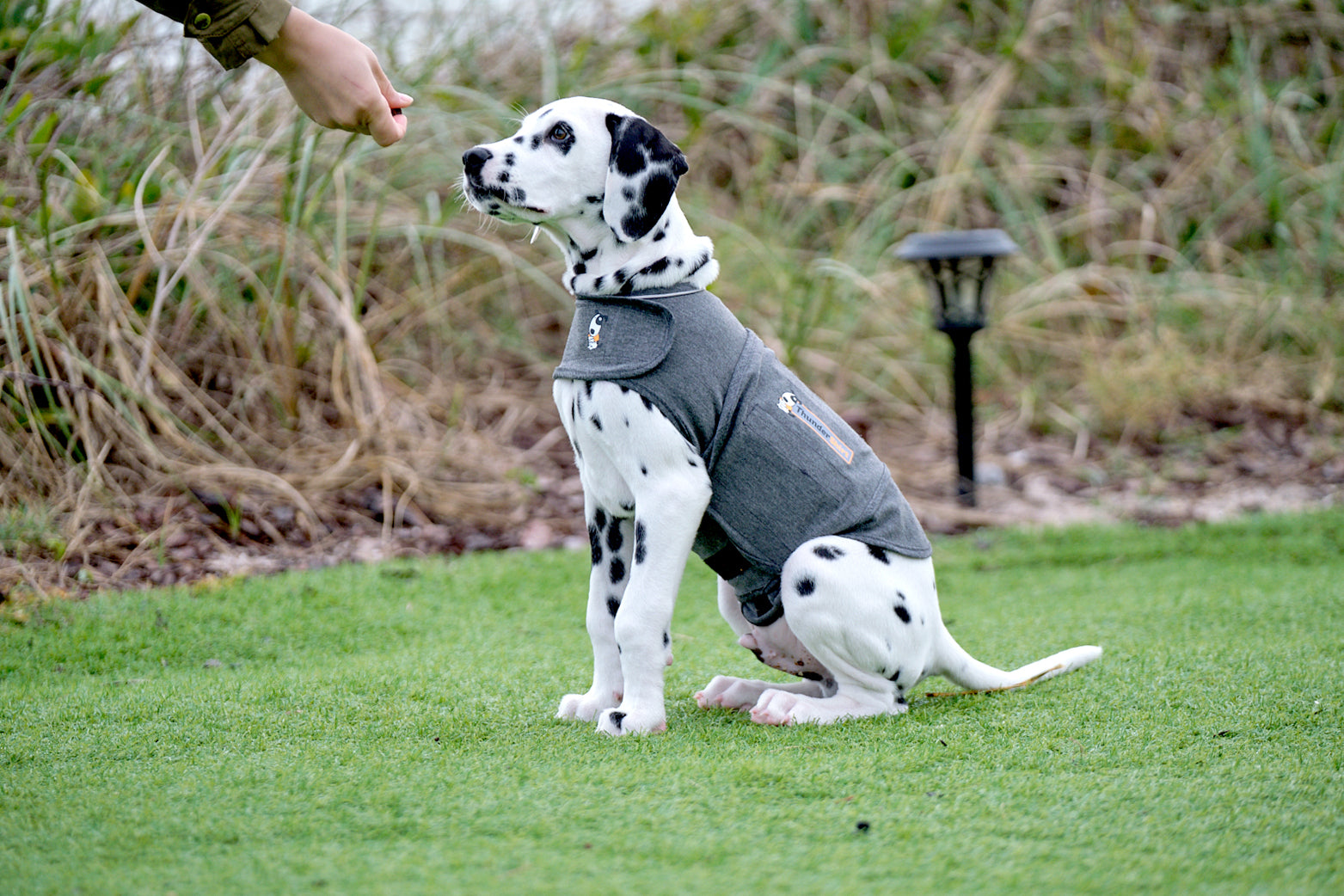 How To Get More Out of Your Dog Training Session
Sit. Stay. Shake. (We were talking to the pups out there but if you found yourself doing these, good job). If you've recently adopted a new four legged family member, or you are a professional dog trainer, chances are you have been trying (and hopefully succeeding) with some basic dog training exercises. 
Like many animal lovers, you may already know the importance of training dogs, but what if training just isn't working? You know the dog you are working with is more than capable of learning these commands, but perhaps something is holding them back from reaching their full training potential. 
Similar to humans, dogs are more receptive to learning / able to focus when they are feeling relaxed rather than anxious.  In honor of February being Dog Training Education Month, we wanted to share ways that our products could enhance the effectiveness of your dog training.
Keep reading to find out how ThunderShirt, ThunderEase, and ThunderLeash can help you achieve more dog training success! 
ThunderShirt to the Rescue
The first thing to remember when training an anxious pup is to be patient and find a training environment that works best for them! Some dogs experience anxiety from the moment they enter a training room and that is where ThunderShirt can help! Allowing the dog to wear a ThunderShirt when beginning the training process can help them feel more at ease in their surroundings, with their trainer, and can even comfort the pup enough to be able to focus on the training that is occurring!
Enlighten Dogs Training out of California love using the ThunderShirt to assist
in achieving maximum training results with the rescues they work with. 
"At Enlighten Dogs Training Center we train many rescue dogs that can be fearful and nervous. The ThunderShirt has really added an extra layer of comfort to these dogs and we see major differences right away in their behavior and their response to our trainers.
"Also some of the dogs that come to our board and train facility might be nervous or shy coming into a new environment.
"The ThunderShirt has been part of our program for the last couple years, it has really made a difference in helping our dogs progress and making dogs feel more comfortable."
 Getting There Can be the Hardest Part
For some dogs, their anxiety around dog training sessions begins with getting to their training location. For a pup that suffers from travel anxiety, having to commute multiple times a week during their training can be torturous, and does not put them in the right mindset for their session.  The last thing you want is to add extra stress upon your dog prior to your training session. 
This is where our ThunderEase Calming Collar can help! The ThunderEase Calming Collar reduces signs of travel stress and anxiety by utilizing pheromones. ThunderEase mimics the calming pheromone that a mother dog emits while nursing her puppies, which helps your dog to feel calmer and more comfortable in all situations!  
The ThunderEase Calming Collar can also be worn throughout the training session to take some of the additional edge off, especially if other dogs will be training at the same time.
Keeping Control is Key
One thing to remember when training is that you, the trainer, should do your best to remain in control. Depending upon what form of training is deemed best for the individual pup, the ThunderLeash could be the solution you are looking for. 
The ThunderLeash is a no-pull solution to make walking a breeze, but depending on the style of training you are doing, the ThunderLeash can be incorporated into training sessions. During your session, the ThunderLeash can be used to help keep extra control over the dog so that unwanted pulling and roaming can be avoided. 
Additional Dog Training Tips
Before we go, we wanted to share some additional training tips for pet owners who may be trying to train their dog at home instead of with a professional trainer. 
Once your dog has newfound calm and is ready for an intimate training session, it can be a long process teaching new behaviors. 
The following tips should help:
Embrace positive reinforcement and give lots of praise when your dog does what you are training it to do. 

Do not punish your dog for bad behavior - ignore and redirect that unwanted behavior elsewhere. (If the unwanted behavior is due to stress or anxiety rather than lack of training, be sure to check out our

product quiz

to determine the best product for your dog.)  

Be patient. Remember that all great things take time and refrain from setting unrealistic expectations. 

Go at your dog's pace. As humans we can get caught up in the hustle and bustle of day to day life and want to rush training processes with our pups. It is important to make sure your dog's needs are being met during training. 

Lastly, don't be afraid to ask for help. There are dog trainers located everywhere. You can use the Association of Professional Dog Trainers

search tool

to locate a dog trainer near you. 
National Dog Training Education Month takes place all month long and we would love to hear your training stories and see how our products have helped! Be sure to tag us on Instagram in all of your dog training adventures!