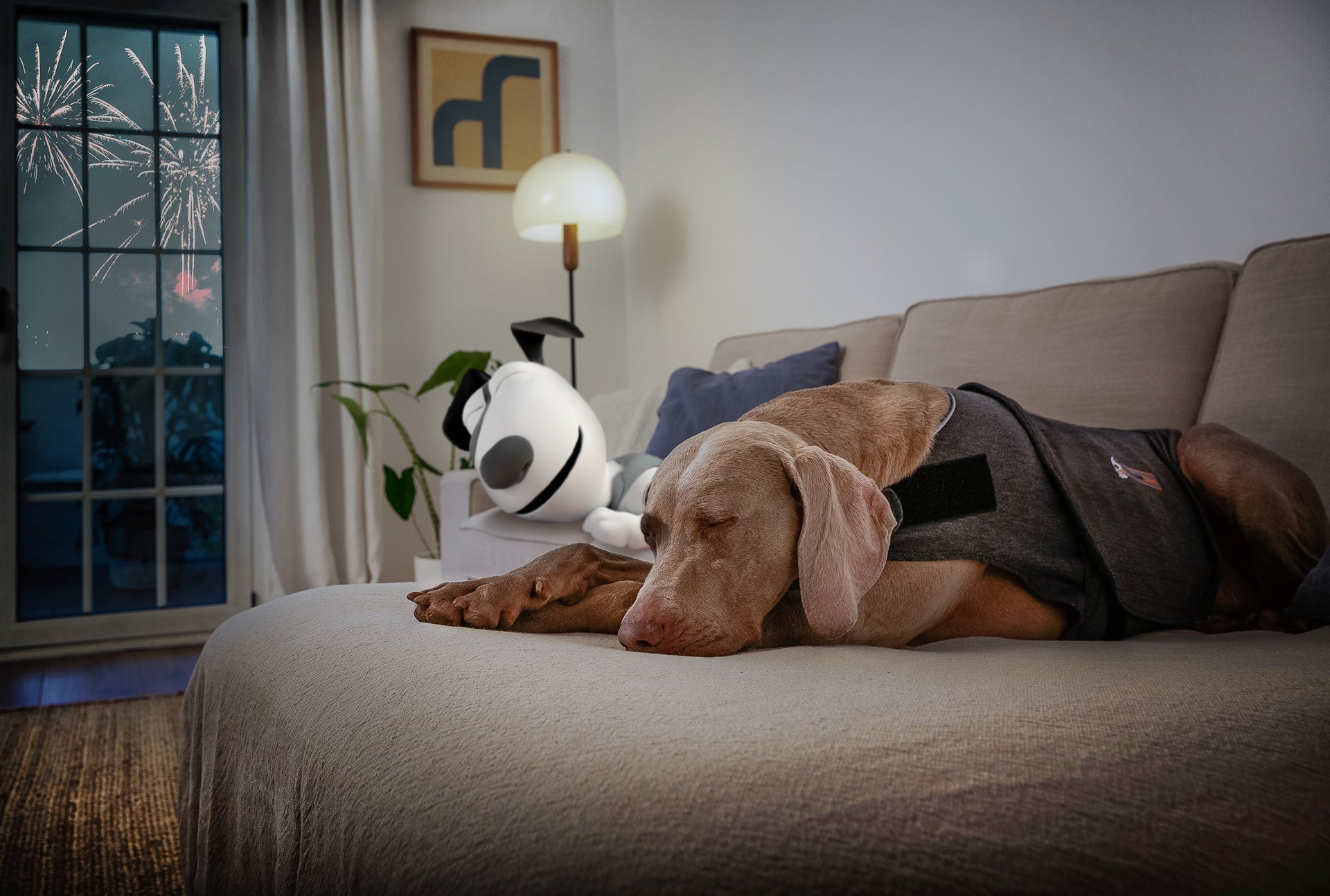 Tips for Keeping Your Dog Cool, Calm, and Collected During Fireworks
"Boom, boom, boom, even brighter than the moon." While Fireworks may be a fun and catchy Katy Perry song, there is nothing fun about fireworks to our dogs! Did you know that nearly 100% of dogs experience some form of anxiety from loud noises such as fireworks? Due to this, holidays like Memorial Day, the 4th of July, and New Year's Eve can be some of the most stressful days of the year for our pets.
As the dog calming experts, our goal is to help your dog survive the fireworks show with as little anxiety as possible. That's why we've put together some tips to help your dog stay safe and calm during fireworks.
Before we get started, we recommend always keeping your dogs inside during fireworks, no matter how calm they may seem. In addition, prior to the night of the fireworks, confirm that their ID tags are updated with the correct contact information, just in case your dog gets out during the fireworks and makes a run for it. 
Let's Get Physical
Just like humans, our dogs can see some anxiety relief if they are able to exercise prior to the anxiety inducing event. This is why we recommend giving your dog LOTS of time to exercise the day of the show. Unlike thunderstorms, you know that the fireworks are coming, so you can make sure your dog gets lots of exercise earlier in the day.  That way your dog will have less pent up nervous energy during the fireworks, helping them to stay calm!
Create a Comforting Oasis
Provide a safe space with other noises!  Part of what causes anxiety for dogs is the suddenness of the loud noises.  If you can block out some of the fireworks with other noises, that will help to drown out the unexpected booms! You can try leaving the TV on, or putting on some calming music!
In addition to the noises, try to distract your dog with toys, treats, their favorite blanket, and snuggles with their best friend - YOU!  If your dog is focused on playing with you, or with a tasty treat, it will help them to not focus on the fireworks.
Like a Hug, ThunderShirt® Can Help! 
ThunderShirt® the #1 vet recommended, natural calming solution for dogs who fear fireworks or other loud noises. ThunderShirt® works by providing gentle, constant pressure to calm all types of anxiety, fear, and over-excitement issues in dogs.
With over an 80% success rate in reducing anxiety, a ThunderShirt® can help tremendously during fireworks! 
Try a Calming Bite-Sized Chew! 
Try our ThunderWunders® Dog Calming Chews!  These tasty chews promote rest and relaxation through natural ingredients like melatonin and tryptophan.  Our customers have seen great success in calming when using both the ThunderShirt® and giving their dog ThunderWunders®! When using ThunderWunders® be sure to give them to your dog at least 30 minutes prior to the show so they have time to kick in before the first boom.
Try Calming Pheromones
Some dogs may benefit from calming pheromones during fireworks. Studies have shown that pheromones can be helpful to relieve general anxiety in dogs, which might be the solution your pup needs to make it through the fireworks show.
ThunderEase® for Dogs Calming Pheromones are perfect for providing comfort to your dog and come in three different forms including a spray, diffuser, and collar. ThunderEase® mimics the calming pheromone that a mother dog emits while nursing her puppies, which helps your dog to feel calmer and more comfortable in all situations!
If you have any questions, please do not hesitate to email us at service@thundershirt.com, or give us a call at (866) 892-2078.  We are always happy to help!  Keep calm, and ThunderShirt on!