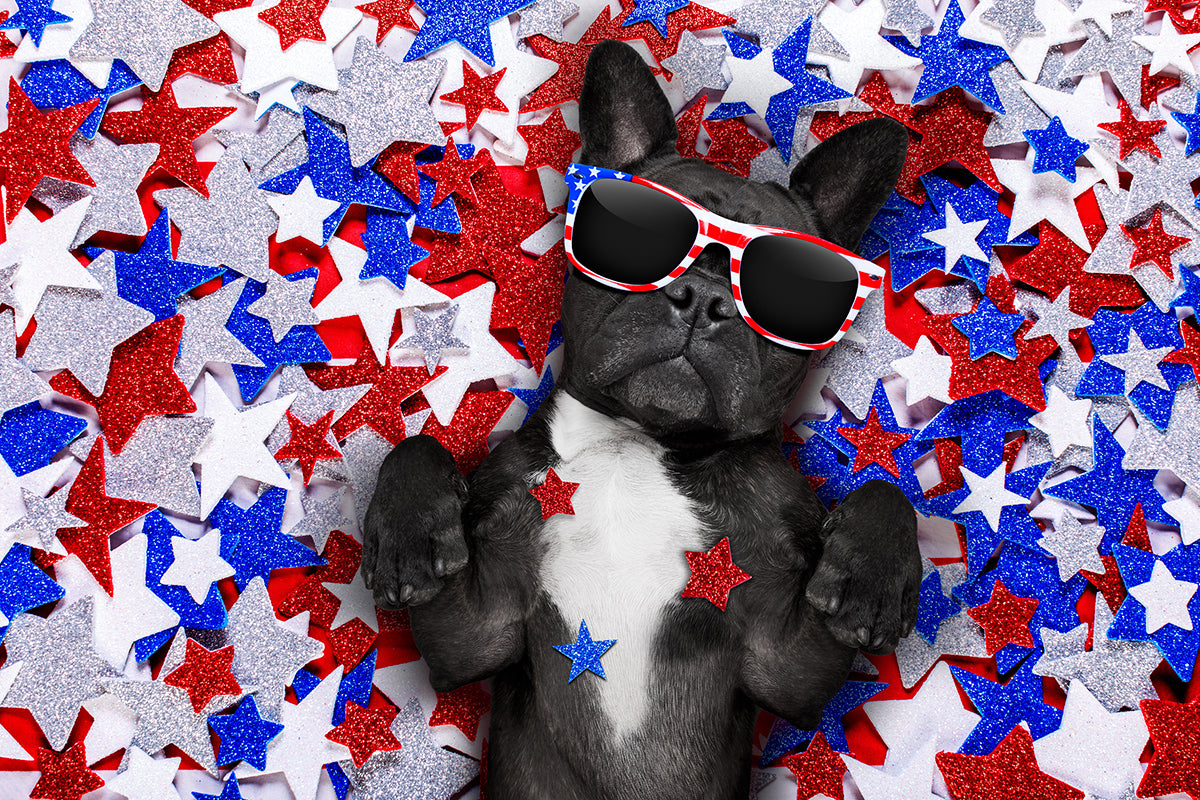 Preparing Your Dog for Memorial Day Weekend: How to Handle Travel, Separation and Fireworks
Summer, summer, summer time! The official kick off for Summer is almost here and that means many of you will be taking an extended weekend to bask in the sun and spend some time with friends and family. 
While you're out having a great time, there is one family member who may not quite be looking forward to Memorial Day weekend like you are… Your dog! 
That's right, Memorial Day weekend usually kicks off what can be one of the most anxiety inducing times of year for our pets so it is imperative that you prepare early to ensure your dog has a great Memorial Day and summer! 
To help you manage your dog's anxiety this Memorial Day weekend and all summer long, we have put together some tips to help make this time good for both you and your dog! 
Don't Let Travel Anxiety Get The Best of Your Dog
Memorial Day weekend is typically one of the biggest travel weekends of the year and kicks off a season of travel that your dog may not enjoy if they are anxious in the car. While many dogs love to go riding in the car, there are many dogs who would rather just stay at home. Whether it be an association issue for your dog or if they just don't like the feeling of driving down the road, travel can cause anxiety in dogs and can present itself in many ways such as carsickness, barking, whining, pacing, scratching and restlessness.
There are many things you can do to reduce travel anxiety in your dog including:
Desensitization Training
If you know you have a Summer filled with car rides and travel don't wait until the last minute to get your dog accustomed to road trips. Start small with quick trips to the store, dog park, Starbucks, etc.. It is best to build positive associations with your traveling for your dog. Many dogs only get to ride in the car when going to the vet so they associate car rides with something that can be less than pleasant. 
Provide Extra Comfort
Another thing you can try, especially on those longer trips, is to turn the area in which your dog will be riding in into an oasis of comfort! Whether that be bringing extra blankets, toys, or even their ThunderShirt, turning the car into a place of calm for your dog is key to helping you manage your dog's stress during the trip! ThunderShirt can help with travel anxiety by applying gentle, constant pressure to calm all types of anxiety, fear, and over-excitement issues your dog may have. 
Bring Additional Calming Support
Some dogs just need extra support when traveling and that is okay! We have your back and have listed two solutions that are perfect for all of your Memorial Day Travel. 
ThunderShirt

+

ThunderEase for Dogs Calming Spray

: This one is for the dogs who have a really tough time when traveling.  We would recommend combining the powers of calm with a ThunderShirt, along with ThunderEase calming spray. ThunderEase mimic's a mother dog's nursing pheromone, and can help your dog to feel safe and calm. There is a special patch on the ThunderShirt where you can spray your ThunderEase, which helps these two products work together for enhanced calming results!"

ThunderEase for Dogs Calming Collar

: Perfect for travel, if your dog doesn't necessarily need the combined powers of calm to make it through their trip, they can use the ThunderEase for Dogs Calming Collar. The ThunderEase Calming Collar is activated by your dog's body heat, so it must remain in contact with your dog's skin in order to release the same great calming pheromones that you get with our spray, just in a different application style. We recommend that you keep the collar on your dog at all times, except when bathed or exposed to significant amounts of water (ie: going swimming).  The collar will stop diffusing if wet, however it will begin working again once it is dry! The collar is also a great addition for your trip if your dog has a fear of new places and will need calming support throughout your trip! 
Some Dogs Will Have to Be Left At Home
Unfortunately not all places to stay are dog friendly and you may have to leave man's best friend at home while you are away. If that's the case, don't fret because there are a few things you can do to help manage separation anxiety over the weekend while you are away! 
Bring in Reinforcements
The first tip we have for helping your dog manage the adjustment of you being gone for the weekend, is to have someone come stay with your pet while you are away. While your pet will certainly still miss you while you are away, they should feel a little more at ease if there is another human filling in for you for the weekend! 
Slowly Introduce Being Alone
Prior to taking your trip away for the weekend slowly help your dog become more comfortable with being home alone. Slowly begin leaving them home alone for small periods of time building up to longer time frames. 
Continuous Calming Support While You're Away
Last but not least, fill your home with calming pheromones while you are away. ThunderEase for Dogs Calming Collar is perfect for when you have to leave your dog home alone for extended times, because it can help them to feel safe and relaxed. Your dog's body heat activates the calming pheromones in the ThunderEase® Calming Collar, so they are there to help calm your dog wherever they go, and in whatever situation that comes up!
Fireworks Are Bound to Happen
When you think of fireworks, you often think about the Fourth of July but Memorial Day is also a time in which some fireworks are shot off. Fireworks are one of the most common anxiety triggers for dogs but lucky for you we have an entire blog dedicated to tips for fireworks solely!
Bundle & Save! 

Are you looking to buy all of our calming solutions to help your dog get through Memorial Day Weekend? Well fear not, we have created a Summer Survival Bundle where you can bundle and save! Please note: custom embroidery is not available on bundled products. 
Enjoy the Weekend!
We hope that you and the dogs in your life have a great Memorial Day weekend and that these tips help you make the most of not only the long weekend but the entire Summer season! Do you have additional tips that work for your dog? Send them our way on Facebook or Instagram, we would love to share all of them to help as many dogs as possible this Summer!