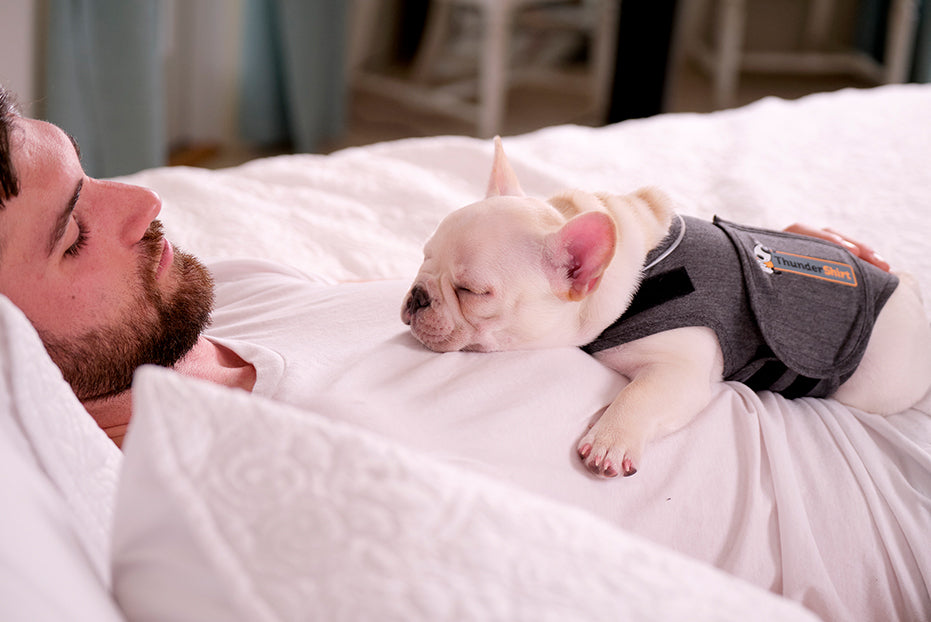 How ThunderWorks Can Reduce Separation Anxiety in Dogs When Returning to Work
The clock is ticking and you only have a few more weeks until your return to the office. You have been preparing yourself for this moment for weeks but what about your dog? Your return to office will have a big impact on your dog and if you aren't prepared, this change of pace could cause some serious separation anxiety for your dog. Don't stress though, as the experts in all things calm, we have solutions that will make this transition easier on your pup.
If you have not already done so, we would like to refer you to our previous blogs Recognizing Separation Anxiety in Your Dog and Tips for Reducing Separation Anxiety When Returning to the Office. Now that you are familiar with separation anxiety and some tips to help you manage your return to work and your pet, you may find yourself wondering what else you can do or if there are any products in the ThunderWorks line that can assist with your return and help reduce the signs of separation anxiety for your dog. So without further ado, here are three products in our lines that make your return to office easier on your pet. 
Products to Help with Separation Anxiety
1. The Original ThunderShirt
To get us started, let's focus on our flagship product, the ThunderShirt!
ThunderShirt is the original, vet recommended, natural calming solution that helps reduce anxiety in dogs in a drug-free way. Like swaddling an infant, our dog anxiety vest's patented design applies gentle, constant pressure to calm all types of anxiety  issues in dogs- including the dreaded separation anxiety!
The ThunderShirt is recommended for thunder, fireworks, separation anxiety, travel, & vet visits. The ThunderShirt typically requires no training and most users see a result in the first few uses! One thing to keep in mind is that while the ThunderShirt is effective, you may have to spend a little more time introducing your dog to the ThunderShirt to see maximum calming effects. Check out our tips for introducing the ThunderShirt here. 
2. ThunderEase Calming Pheromones for Dogs
Powered by Adaptil, ThunderEase is the #1 Vet Recommended Solution to help dogs adjust to challenging situations and curb unwanted stress related behaviors. ThunderEase is a great product for separation anxiety as it comes in the form of a diffuser, collar, and a spray. ThunderEase mimics the mother's pheromones which can help ease your dog's anxiety symptoms while being alone and can make them feel like they are not alone even when they are thanks to the pheromones. All implementations of ThunderEase are great for separation anxiety, however many pet owners prefer the diffuser as all you have to do is plug it in where your dog spends most of their time! 
For an even calmer pet, combine the powers of calm! Each ThunderShirt comes with a convenient ThunderPatch - the perfect place to spray ThunderEase Calming Pheromones.
3. ThunderWunders Calming Chews
Last, but not least, we have our ThunderWunders Calming Chews! These calming chews are vet recommended, and contain ingredients that help promote rest and relaxation for your dog, like thiamine, L-Tryptophan, and melatonin. Read more about the ingredients in ThunderWunders Calming Chews.
All of our products are backed by the ThunderWorks 100% satisfaction guarantee, so what are you waiting for? Implement some of our calming solutions as early as possible when preparing to return to the office. The earlier you are able to begin preparations, the more effective the solution will be!