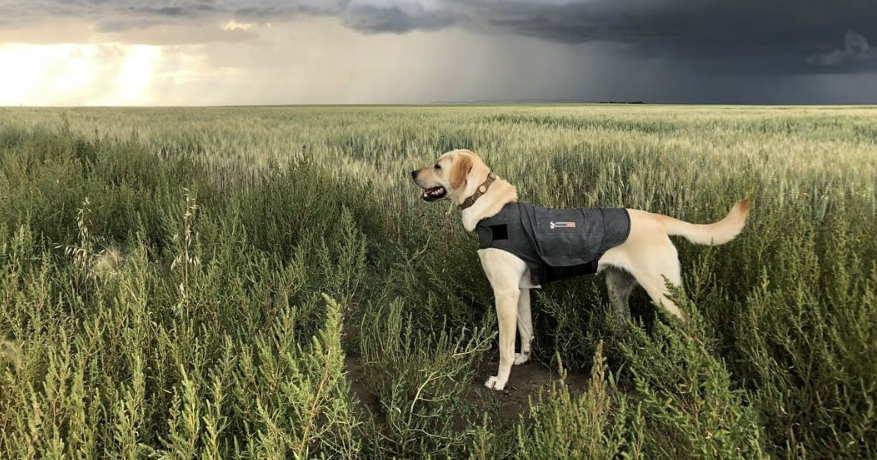 Tips to Help Your Dog to Stay Calm During a Storm
Noise Anxiety in Dogs is Extremely Common.
Shaking, hiding, barking, running or pacing; Noise anxiety looks different in each dog, but over 45 million dogs in the US suffer from fear or anxiety caused by loud noises.
This anxiety might be triggered by things like thunder, fireworks, garbage trucks, and vacuums. Some dog breeds are genetically predisposed towards noise anxiety, and some dogs develop this anxiety some time in their lives whether from a specific traumatic event, or from aging and hearing or vision loss.
Symptoms of Dog Noise Anxiety
Recognizing noise anxiety can be critical for the health and well-being of your dog. The symptoms of noise anxiety range from mild to severe. Here are some things to look out for:
Shaking, Panting, Drooling
Hiding or Clinging
Barking
Yawning
Chewing and Licking
Escaping
Running or Pacing
Destructive Behavior
Indoor Urination or Defecation
Seizures
How You Can Help
There are a lot of options available to help you and your pup relax, so don't be afraid to consult with a trainer or veterinarian to see what's right for your family.
Things to try
Stay calm yourself – try sitting still and relaxing in one area
Leave your dog's crate or kennel open, covered with blanket to create a dark "safe space"
Turn on the TV or a sound machine in the room they are in to help mask the sudden noises
Play a game with your dog to distract them
Extra cuddles if your pet comes to you
DO NOT
Lock your dog in a different room or crate. Allow them to be where they feel most comfortable.
Yell at, or otherwise punish, your dog for being afraid. This will only make their fear worse.
You can't always take away the cause of your pet's anxiety, but you can still help them when storms roll in. As the leader in the calming industry, ThunderWorks offers several vet recommended solutions that can help pets who suffer from thunderstorm and noise anxiety. All of our products come with a risk-free 45-day return policy. Check them out below:
ThunderShirt Calming Vest/Jacket – Click Here to Shop
ThunderShirt's patented design applies a gentle, constant pressure that has a dramatic calming effect. Using pressure to relieve anxiety in people and animals has been a common practice for years such as swaddling infants and the use of gentle pressure and weighted vests to help people with autism.  The ThunderShirt was invented over 10 years ago specifically to help calm dogs down during storms in a drug free way.  Millions of dogs have already been helped! 
ThunderEase Calming Pheromones – Click Here to Shop
ThunderEase helps your dog feel calm and comfortable by mimicking a mother's natural nursing pheromones. Scientifically tested to be over 90% effective for reducing anxiety and unwanted behavior, your dog will feel safer and less-stressed, totally drug-free.
ThunderEssence Calming Essential Oils – Click Here to Shop
ThunderEssence contains 100% natural essential oils from Lavender, Chamomile and Egyptian Geranium. These oils are widely used in aromatherapy for a wide variety of calming and health benefits for both humans and dogs. Give your dog that extra measure of calm with ThunderEssence.