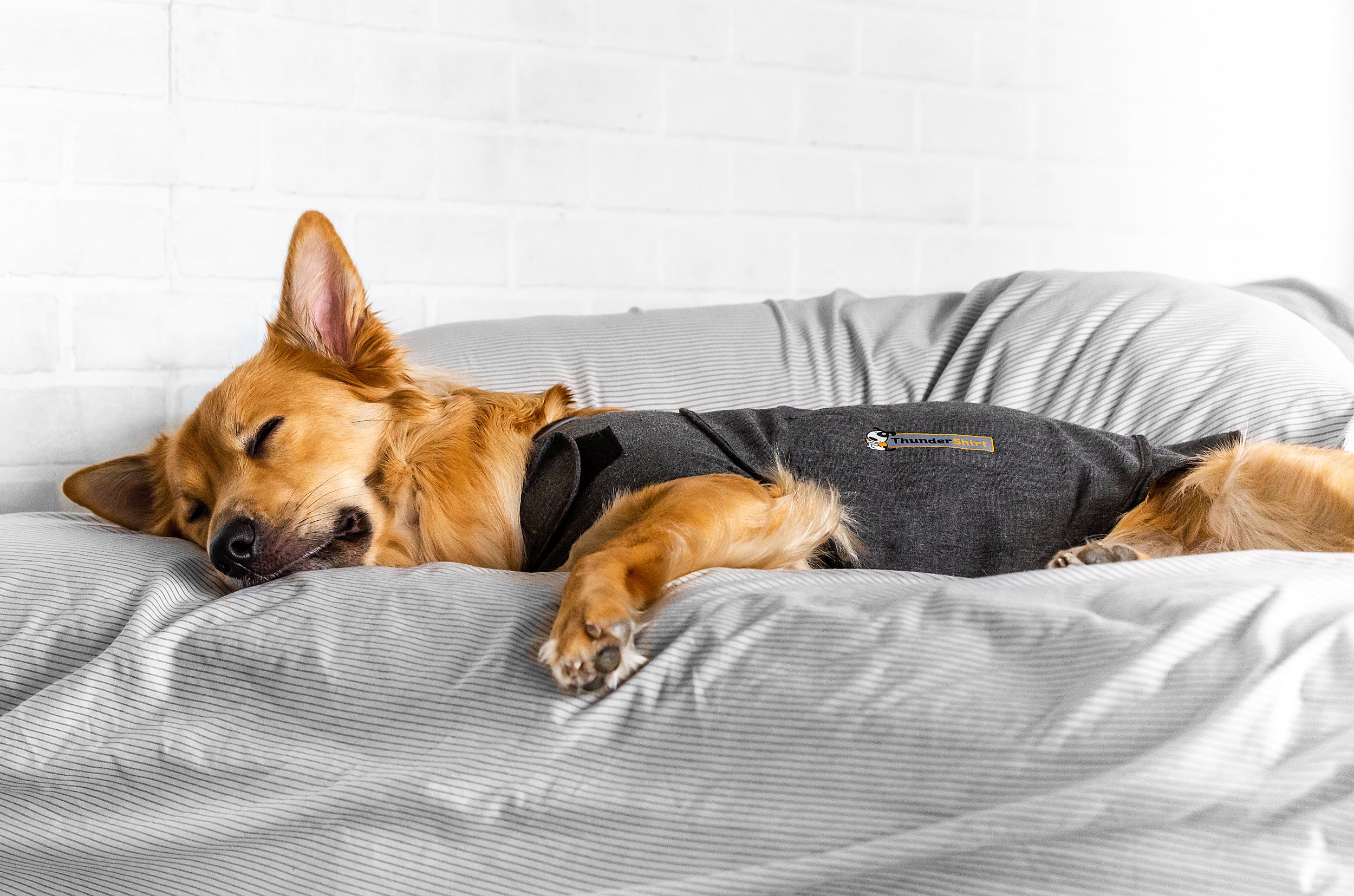 5 Tips to Help Your Dog Stay Calm During Fireworks
While the level varies, nearly 100% of dogs experience some kind of anxiety from loud noises such as thunderstorms or fireworks.  Because of this, holidays like the 4th of July and New Year's Eve can be one of the most stressful days of the year for our pets.
As the dog calming experts, we've put together 5 tips to help your dog stay safe and calm during fireworks.
Make sure to always keep your dogs inside during fireworks, no matter how calm they may seem.  In addition, prior to the night of the fireworks, confirm that their tags are updated with the correct contact information, just in case your dog gets out during the fireworks.
1

Get LOTS of exercise the day of!  Unlike thunderstorms, you know that the fireworks are coming, so you can make sure your dog get lots of exercise earlier in the day.  That way your dog will have less pent up nervous energy during the fireworks, helping them to stay calm!

2

Provide a save space with other noises!  Part of what causes anxiety for dogs is the suddenness of the loud noises.  If you can block out some of the fireworks with other noises, that will help to drown out the unexpected booms!  

You can try leaving the TV on, or putting on some calming music!

 

3

Distract them with toys, treats, their favorite blanket, and snuggles with their best friend - YOU!  If your dog is focused on playing with you, or with a tasty treat, it will help them to not focus on the fireworks.  

4

Use a ThunderShirt!  ThunderShirts the #1 vet recommended, natural calming solution for dogs who fear fireworks or other loud noises.

ThunderShirt can help tremendously during fireworks! 

5

Try out ThunderWunders Dog Calming Chews!  These tasty chews promote rest and relaxation through natural ingredients like melatonin and tryptophan.  Our customers have seen great success in calming when using both the ThunderShirt and giving their dog ThunderWunders!
If you have any questions, please do not hesitate to email us at service@thundershirt.com, or give us a call at (866) 892-2078.  We are always happy to help!  Keep calm, and ThunderShirt on!